Dora The Drawer
INTERVIEW/DISCUSSION, ART & CULTURE
Known as Dora the Drawer in the London music scene; but Dora Lam, which is her real name, is a self-taught London based artist, who has a slightly unconventional way of producing her craft. By packing her tools and utensils into a single bag; Dora travels across the city to different gigs to paint live performances from the city's best musical talents, making these live music venues her own personal studio.
For I only came into knowledge about Dora and her works last month, when I went to the Jazz Café for a London Jazz Festival special with Cykada and Ma.Moyo; some may have already come across her from the past 3 years that she has been on the scene. However, as a first-time viewer of Dora at ones of these gigs, I was absolutely fascinated about her work, and wanted to find out more about what she does, and to share with those who have not heard of her or come across her before. So I contacted Dora following the gig, and managed to gain a small insight into how the concept of Dora the drawer came about:
A picture of one of her paintings that was done at The Jazz Cafe, London:
Find full Q&A below:
1) So how did the concept of Dora the drawer come about? Did you go to many music events before?
I started live painting roughly 3 years ago, I always saw a lot of live music since I was in a band a while ago. I have always loved jazz so would go to see a lot of shows. One time at the Jazz Cafe I just started doing some sketches in pastel to donate to a friend for a charity auction and the magic started there, the reception from the audience and musicians was so great it just carried me through..
2) What do you paint at these events? Do you take inspiration from the musician or band who is playing?
I paint musicians as they are performing live, absolutely, a lot of inspiration comes from the musicians - what they play, how they play, how it makes the audience feel, me feel, how the energy changes, the vibe from the audience, the space, the weather that day.. everything.
3) Do you finish your paintings at every gig, or do you finish off your paintings when you can?
I never touch up the painting, what is captured at the performance is the finished article. I usually focus on completing one piece for the entire show, the painting is influenced by being in the moment and represents spontaneous creativity from the music and the show which cannot be replicated so I would feel uncomfortable making changes outside of that moment.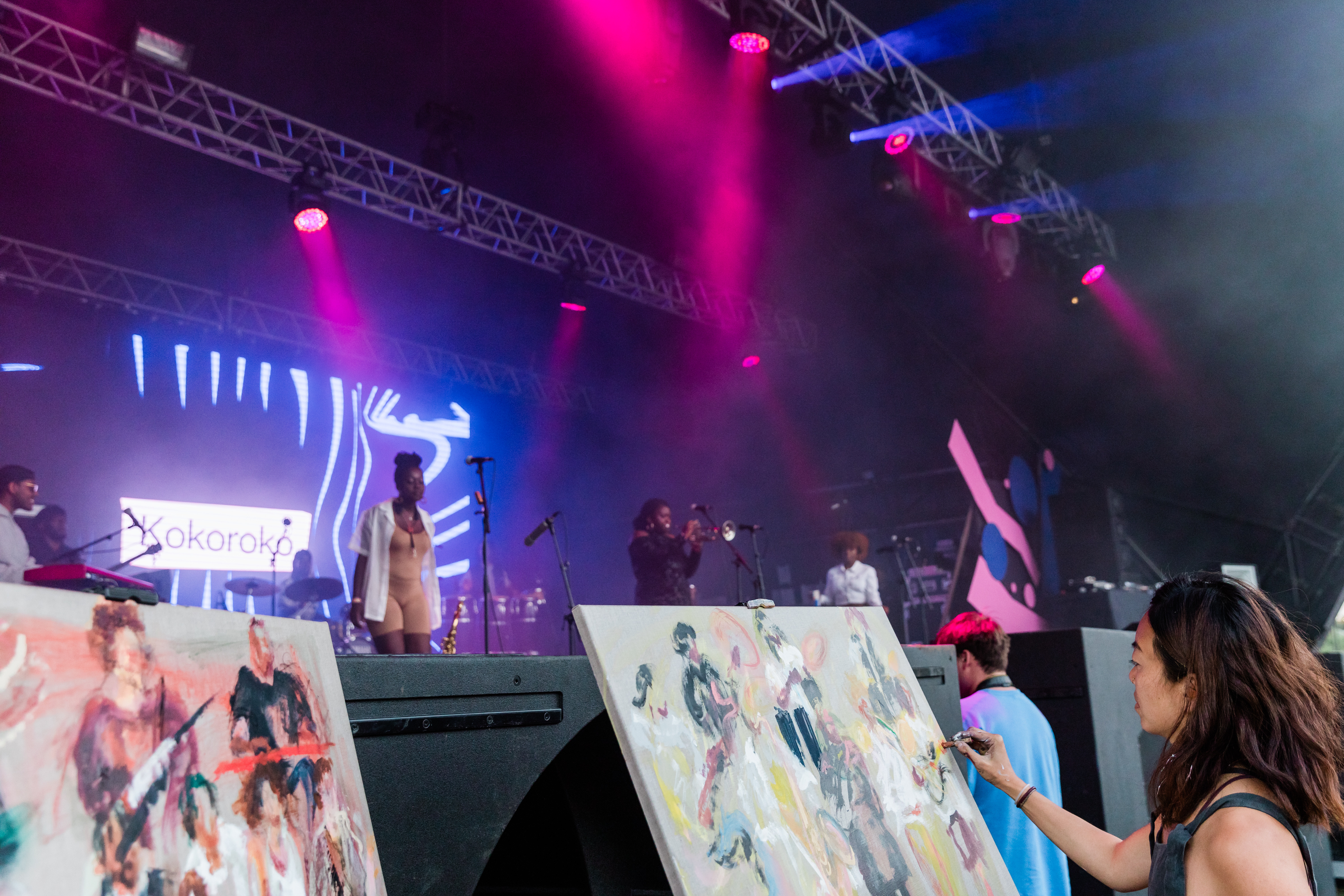 (A picture of Dora paintaining at the main stage of We Out Here Festival last year)
4) I noticed at Jazz Cafe that you paint in time to the music so when the music gets fast you start to paint faster - is this on purpose?
Not at all, it's all involuntary muscle spasms, in the best way possible! I think it's important to be loose and go where your body takes you without premeditation or control. For me the moment where a painting loses its beauty is when the brain goes into analytical mode, being guided by intuition and "feeling what you're feeling" is what makes it authentic - and it makes it a truer expression of the experience of a live performance.
5) Are you into music? If so what sort of music do you like? Do you tend to go to a certain genre music event?
I have been into music since as far back as I remember, one of my earliest happy memories is when I was skipping around the playground composing a song in my head, I think I was around 6 at the time. I mostly go to jazz gigs since it's my passion, but I also love funk, blues, folk.. anything that's rootsy, real and has soul.
6) What big events have you painted at? And what are the next events in the pipeline?
I have painted at some large festivals and venues, the biggest venue is probably when I painted at the Royal Festival Hall for the Women of the World festival closing night in 2017. This year it would have been painting on stage at Elizabeth Hall at the Total Refreshment Centre x Blue Note event for London Jazz Festival. Last Summer was full of festivals like Love Supreme, Wilderness, We Out Here, Brainchild, it was immense and tiring but nourishing and so much fun! I usually post my gig guide at the beginning of every month which will include the gigs I will be painting at - so look out on my instagram
@dorathedrawer
!
Despite being someone who usually wants to be fully captivated and immersed in the music; Dora has opened up my eyes to another way of appreciating art and culture. Through one form of art, we can appreciate another. As quoted by her below:
'Among other things, live painting is an act of spontaneous creativity inspired by another act of spontaneous creativity, which aims to inspire yet more creativity. To be part of a creative cycle like that is being in a community, something I cherish and want to enroll everyone into.'
(Article written by Maya Gough, GNM Founder)
︎INFO
︎INSTA